Gate Box Kits
Offering comprehensive Gate Box Kits for gate and fence installations, Gate Solutions by Codelocks provides a simple and effective access control solution for fenced perimeters and outdoor spaces. Available with selected locks from the Codelocks Mechanical, Electronic and Smart Lock ranges.
Gate Solutions by Codelocks contain all components required for straightforward installation. The Gate Box Kit includes the Codelock, latch, 14-gauge steel pre-drilled weldable box and accompanying hardware. Featuring adjustable strike plates, dual backplate installation options as well as exit device hardware and accessories, these kits are fully versatile.
Brochure
Gate Solutions by Codelocks is suitable for indoor and outdoor applications, making them an ideal choice for pool areas, schools and colleges, hospitals, hotels, backyards - any restricted area that will benefit from controlling access, commercial or residential.
Chain Link
Wood
Vinyl
Ornamental Steel

Codelocks Mechanical, Electronic and Smart Locks are suitable for installation to 4 different types of fencing. Some locks will be better suited to specific applications and fence types than others. To discuss your application and find the right lock for you, contact us.

Compatible Codelocks
Selected models from the Codelocks Mechanical, Electronic and Smart Lock ranges are available as part of the Gate Box Kits. From light duty, single code mechanical locks, to muti-user electronic locks and smart locks utilising MIFARE® compatible RFID technology - there's a lock to suit all applications.

Codelocks CL200, CL400, CL500 and CL600 mechanical models are available from the Marine by Codelocks range. Featuring black, marine grade finishes, specially enhanced to withstand harsh outdoor and maritime environments.
Not sure which lock to go for?
To discuss your gate and fence application and determine which Codelock is most suitable, get in touch.

What does the Gate Box Kit include?
Lock
The selected Codelock in it's box containing installation, operating instructions, fastenings and latch. All documents are also available online at codelockssupport.com
Gate Box
14-gauge steel. Easily weldable into a gate. Pre-drilled for specific Codelocks branded lock models. Adjustable strike bracket and mounting hardware.
Latch Bracket
16-gauge steel. Powder coated using RAL #7035. Adjustable up to 3" gap between gate and post.
Dimensions
Gate Box Kits come in three different sizes.
To view dimensions and technical specifications, download our data sheet below:
Accessories
Clean by Codelocks
Clean by Codelocks provides an optional coating which can be applied to Codelocks products. The clear, permanent coating combats SARS-CoV-2 coronavirus (COVID-19) and can reduce bacterial growth by 99.96%1, providing an additional measure of protection over sanitization.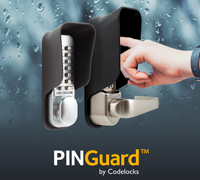 Weather Shields
PINGuard™ by Codelocks offer flexible, high grade polymer weather shields with additional code protection privacy. Suitable for CL500 and CL600 mechanicals. Polycarbonate weather shields, included in the kit, are required upon external installation of the CL5200 and CL5500 electronic locks.
RFID Access
Utilizing RFID technology, Codelocks Smart Locks provide flexibility and convenience by offering multiple access options including MIFARE® compatible stickers, fobs and cards.
Gate Solutions by Codelocks
Comprehensive Gate Box Kits for gate and fence installations, available with selected Codelocks Mechanical, Electronic and Smart Locks.
Contact us to discuss your application:
---
1. Clean by Codelocks is a brand name operated by Codelocks Inc. to describe products that have been treated with the LumaClean™ Multipurpose Photocatalytic Coating manufactured by USA Nanocoat "the Manufacturer". All test results, certifications and claims are those applied for or of the Manufacturer. Clean by Codelocks should be not be considered a replacement for an overall cleaning and disinfection strategy. No claim is made or implied that Clean by Codelocks provides infallible protection against agents that may be harmful in part or whole to humans or animals.↩